After decades of producing trusted waterproof clothing for sailors, Gill in 2015 responded to the growing demand for dependable fishing rain gear. Gill Fishing was born and immediately set a new standard for anglers with Gill's dependable foul weather suits that were tailored specifically for the needs of fishing in the rain.
To celebrate the launch of our new fishing foul weather collection, which includes the most advanced rain suits Gill Fishing has ever released, we spoke with our product development team about Gill Fishing's beginnings and the evolution of our fishing products.
Product Design
What was the first fishing rain suit designed and what did it look like and feature?
The Tournament Jacket and Trouser was our first rain suit specifically designed for fishing. These were modelled after our best-selling OS2 sailing jackets, which anglers who demanded the best rain gear for fishing had already been using. After talking directly to anglers, they informed us that the high-collar storm flap coupled with the fabric were already meeting their needs, and with some small adjustments would be perfect for what they needed. Further modifications included revising the pocket configuration on the fishing jacket and adding leg zips to the trouser. Most importantly, we devised the "Vortex Hood" system to allow the hood to stay in place while traveling on fast-moving bass boats.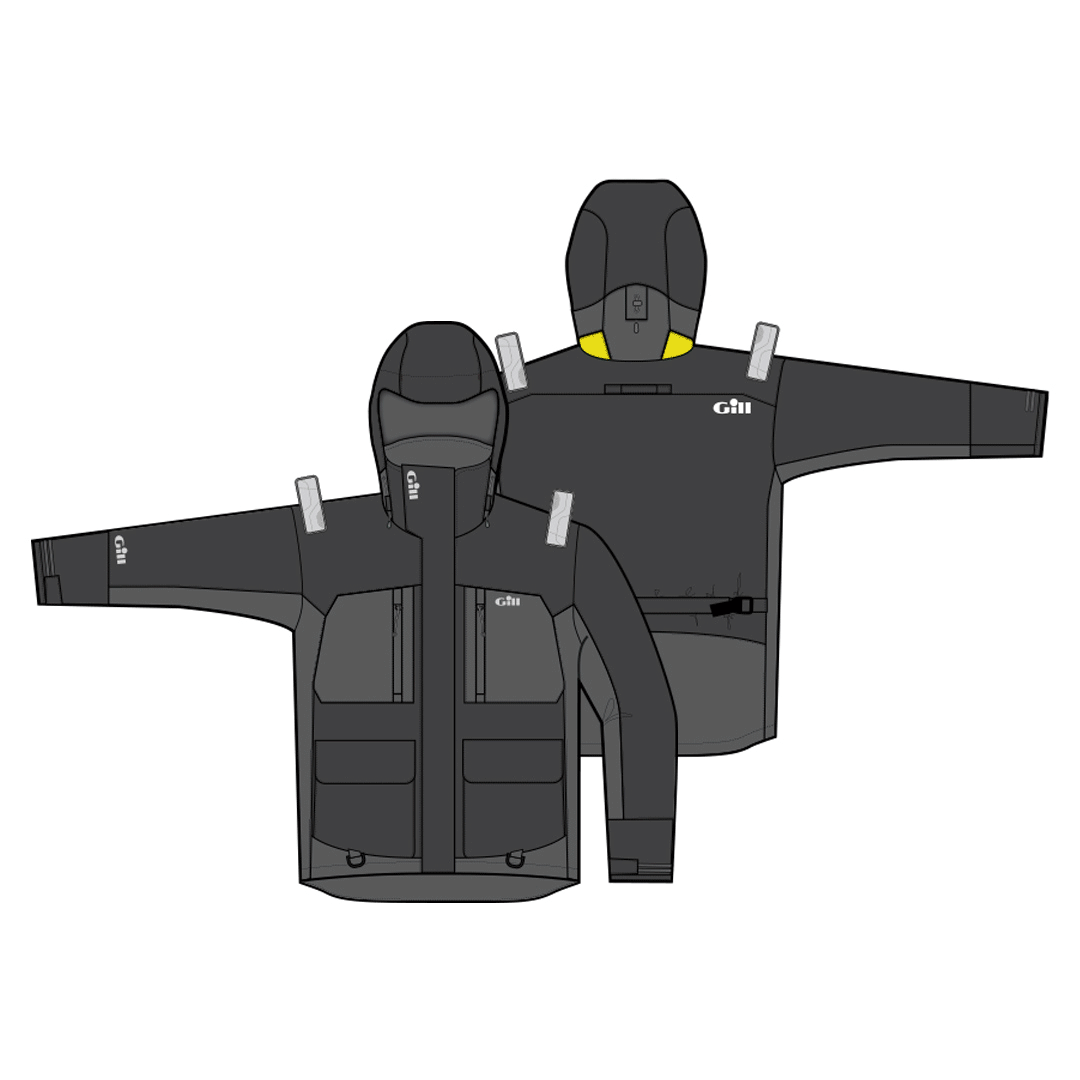 Our Vortex Hood Construction
What learnings were incorporated to take it from sailing to fishing?
We already knew the foundations were there; quality fabrics, proven waterproof construction, and a high level of testing, it was then a case of ensuring the features met the needs of anglers rather than sailors.
As well as using quality fabrics that are made to last, what other steps are being taken to ensure Gill products are made as sustainably as possible?
The lay plans (as seen below) are created in such a way that there is no more than 5% wastage, what waste there is, is then collected and recycled.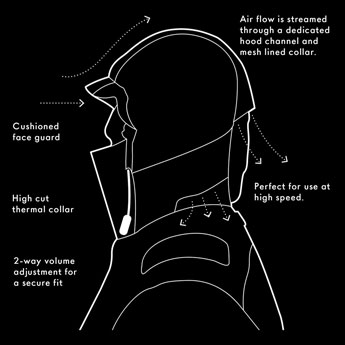 Jacket Construction

Trouser Construction

What technology and features have been updated in the latest rain suit collection?
For the Apex Pro-X and Meridian-X we've combined our most advanced waterproof and breathable fabric with our exclusive XPEL® fabric finish, which repels water and blocks stains from blood, slime and other contaminants encountered on the water. The Meridian-X jacket also has an improved fit and internal shock cord adjustment at the waist, while the Aspect Bib has a front relief zipper for added convenience.
In the product development process who do you use to test the products for feedback to ensure it's fit for purpose?
We worked closely with our fishing pros to develop a collection that was truly built for fishing in the rain, not only using the best fabrics but also paying attention to the little details. Developing product alongside professionals has helped us to continually improve season on season.
What tests are carried out to ensure quality and performance?
Part of what makes Gill so unique is the advantage of having an in-house lab at the UK head office. Whether it's fabric development or monitoring bulk fabrics, we have full control and visibility of the end product.
Have any tests changed or been added in recent years?
The Apex-Pro-X and Meridian-X rain suits are now treated with our XPEL® water-and-stain-resistant technology. As part of the testing to ensure that the chemical was fit for purpose within the angling world, we incorporated fish blood, guts, and slime into our testing. It was important to us to emulate real-life situations as much as possible.
Here is a list of all of the fabric tests we perform:
Face abrasion using 320 grit sandpaper
Coating abrasion using worsted cloth
Spray rating
Hydrostatic Head testing during three stages: Initial test, after 30 washes, and after ageing
Ageing
Color migration
Color shade
Breathability
Wash testing, up to 30 washes
Stain resistance
We continue to develop products that protect anglers from the elements and allows them to pursue their passions on the water regardless of the conditions. If you're ready to stay dry while fishing in the rain with Gill, shop our range of Rainsuits: